FRITZ BORNSTÜCK: WELTEMPFÄNGER

opening reception for the artist: May 17, 2018, 6 pm
exhibition: May 18 - June 29, 2018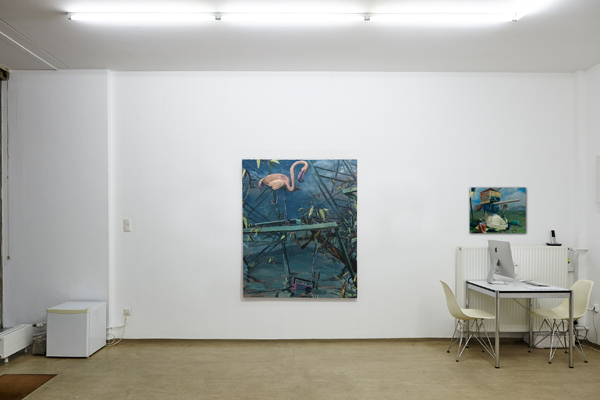 Nicole Gnesa ist sehr stolz, mit 'Weltempfänger' neue Arbeiten des europaweit viel beachteten Künstlers Fritz Bornstück zum ersten Mal in einer Einzelausstellung in München zeigen zu dürfen.

Fritz Bornstücks Bilder öffnen den Blick in größtenteils unwegsames, brachliegendes, scheinbar vergessenes Gelände. In den Malereien werden überwucherte Architekturen zur Bühne für Inszenierungen für Überreste einer konsum- und feierwütigen Wegwerfgesellschaft. Bornstück widmet sich in seinen Stillleben und Landschaften einer vielschichtigen Ästhetik des Abjekts1. Klobige Kühlschränke, Jukeboxen und Masten führen das Auge - von ihren eigentlichen Funktionen befreit - auf Irrwegen in den Bildraum. Diese umherliegenden, verlassenen Alltagsgegenstände sind Stellvertreter menschlicher Anwesenheit. Gleichzeitig dienen die zunächst scheinbar wertlosen Fragmente als kulturgeschichtliches Verweissystem.

Währenddessen beginnt die Natur bereits die Brachen, das Wasteland von der Popkultur zurückzuerobern. Exotische und einheimische Singvögel, Insekten und anderes Getier durchstreifen den Bildraum. In der Bildtiefe geben dämmerige Blau- und Grüntöne den farblich sanften Stilleben eine tragende Stille, die die Absenz des Menschen nochmals verdeutlicht, während im Vordergrund eine überbordende Verstrickung von floral-ornamentalen und konstruktivistischen Elementen dazu einlädt, sich im Bild zu verlieren.
Formal besonders auffällig ist die Direktheit der Bilder. Obwohl sie in ihrem teils zarten, teils wilden Farbauftrag fast altmeisterlich wirken, ist es beinahe so als würde sich der Bildraum in den Ausstellungsraum fortsetzen. Dieser delikate Effekt entsteht durch die Verwendung von aufkollagierten, in Pigment getränkten Stoffschnipsel und Stücke, die wie beleuchtete Flächen aus sich selbst heraus strahlen und eine neue Dimensionalität schaffen.

Wie ein Weltempfänger2 saugt Fritz Bornstück die Einflüsse seiner Umwelt ein, er fühlt sich in der Verpflichtung des Malers, eine 360° Perspektive auf die Welt zu haben. Diese vielschichtigen Eindrücke verarbeitet er und spinnt daraus einen künstlichen Raum, der wiederum als Projektionsfläche für den Betrachter dient. "The object that is not an object seems very important for Fritz Bornstück's work."3 wie Felix Rothstein schreibt. Anstelle eines zentralen Motives steht die selbstreflexive Sicht des Betrachters im Fokus. Alle Bestandteile im Bild verdichten sich zu Signifikaten, die schließlich Teil der Geschichte dieses Betrachters werden.

Ergänzend zur Malerei werden neue Keramiken von Fritz Bornstück gezeigt.

Fritz Bornstück (*1982) studierte an der UDK in Berlin bei Leiko Ikemura, Björn Dahlem, Felix Schramm und Tillmann Küntzel. 2009 schloss er sein Studium als Meisterschüler von Thomas Zipp ab und erhielt daraufhin das renommierte zweijährige Stipendium bei 'De Ateliers' in Amsterdam. Seitdem hatte er u.a. Einzelausstellungen in Paris, Kopenhagen, Zürich, Stockholm, Berlin, Frankfurt. Seine Arbeiten sind in mehreren öffentlichen Sammlungen und Museen zu sehen, unter anderem der Sammlung Hildebrand (Leipzig), Arken Museum (Kopenhagen), Sammlung Lützow (Berlin), Sammlung SØR Rusche (Köln).
Fritz Bornstück lebt und arbeitet meistens in Berlin.

__

1 nach Julia Kristeva

2 Weltempfänger sind kleine batteriebetriebene Transistorradios, die zur Zeit des kalten Krieges dafür sorgen sollten, dass Nachrichten via Kurzwelle weltweit empfangen werden können. Durch die rasche Verbreitung des Internets sind die kleinen Radios kaum mehr im Gebrauch.

3 Felix Rothstein, We are all Pilgrims who Seek Italy, in: Fritz Bornstück. Ten, Kopenhagen 2018, S. 7

//


Nicole Gnesa is proud to present Weltempfänger, featuring new works by Fritz Bornstück in the artist's first-ever solo exhibition in Munich.

Fritz Bornstück's paintings lead the viewer into impassable, fallow, and seemingly forgotten terrain. Overgrown architecture functions as a stage for the remnants of a consumer society. In his still lifes and landscapes, Bornstück pursues a layered aesthetics of the abject1. Chunky refrigerators, jukeboxes, and electricity poles – freed from their usual functions – send the eye down false paths in the pictorial space.These abandoned everyday objects are stand-ins for human presence. At the same time, the seemingly worthless fragments create a system of cultural-historical references.

Meanwhile, nature has already begun to reclaim the pop-culture wasteland. Exotic and native songbirds, insects, and other animals roam through the pictorial space. In the depths of the picture, a delicate palette of dusky blues and greens emphasizes the tranquility of the still life, thus further underlining the absence of man; in the foreground, on the other hand, an exuberant entanglement of floral-ornamental and constructivist elements invites the viewer to lose herself in the painting.
Their directness is formally striking. Although the compositions recall Old Master paintings in their partly delicate, partly wild use of color, it is as if the pictorial space continued into the exhibition space. This delicate effect is accentuated by Bornstück's collage technique: pigment-soaked pieces of canvas are applied to illuminated surfaces, which radiate, thus creating a new dimensionality.

Like a Weltempfänger2, Fritz Bornstück is influenced by his environment; he sees it as the duty of the painter to view the world from a 360° perspective. By processing various layered impressions he creates an artificial space, which in turn serves as a projection surface for the viewer. "The object that is not an object seems very important for Fritz Bornstück's work,"3 as Felix Rothstein writes. Instead of a central motif, the viewer's self-reflective gaze is in focus. All the components of the painting are condensed into signifiers which eventually become part of the viewer's story.

In addition to the paintings, new ceramic work by Fritz Bornstück can be seen.

Fritz Bornstück (b. 1982) studied at the UDK in Berlin with professors Leiko Ikemura, Björn Dahlem, Felix Schramm and Tillmann Küntzel. In 2009 he concluded his studies as a master student of Thomas Zipp and went on to complete the prestigious two-year 'De Ateliers' residency program in Amsterdam. Since then he has had solo exhibitions in Paris, Copenhagen, Zurich, Stockholm, Berlin, Frankfurt, et al. His work can be seen in several public collections and museums, including the Hildebrand Collection (Leipzig), Arken Museum (Copenhagen), Lützow Collection (Berlin) and SØR Rusche Collection (Cologne). Fritz Bornstück lives and works in Berlin.

__
1 See Julia Kristeva.
2 Weltempfänger (world receivers) are small battery-powered transistor radios designed to ensure that news could be received worldwide via shortwave during the Cold War. Due to the rapid spread of the Internet, the small radios are now hardly in use.
3 Felix Rothstein: We are all Pilgrims who Seek Italy, in: Fritz Bornstück. Ten, Copenhagen 2018, p. 7.