UTA REINHARDT: SURFACE / DISPERSION

opening reception for the artist: October 25, 2018, 6 pm
exhibition: October 26 - November 24, 2018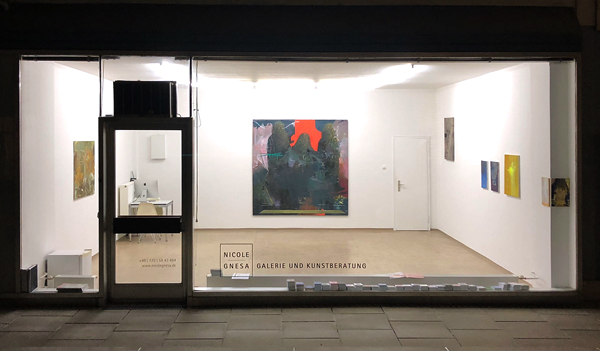 Please scroll for the English version


Uta Reinhardts Bildschöpfungen laden den Betrachter zu vielfältigen Deutungen ein. Jedes ihrer Gemälde scheint nach einem eigenen Gesetz komponiert zu sein. Wer freilich versucht, die so ganz unterschiedlichen Motive in ihren Bildern gedanklich zusammenzufassen und inhaltlich aufeinander zu beziehen, der wird kaum zum Kern ihrer Arbeit vorstoßen.

Das malerische und zeichnerische Werk von Uta Reinhardt ist gerade deshalb so rätselhaft reich und so verwirrend vielfältig, weil es nicht schlüssig nach inhaltlichen Vorstellungen konstruiert, sondern mit rein malerischen Mitteln erarbeitet, quasi mit Pinsel oder Stift erdichtet worden ist. Mit anderen Worten: Uta Reinhardt kann den Betrachter zu intensiven Gedanken anregen, nicht weil sie gegenständlich malt, sondern weil ihrer spontan freien, über weite Strecken abstrakten Malerei immer wieder höchst lebendig gegenständliche Formen entwachsen. Ihre Bilder vermögen zu fesseln, weil die motivischen Andeutungen in große malerische Kompositionen eingebettet sind, die sowohl mit als auch ohne inhaltliche Deutung erlebt und genossen werden können.

Beschäftigt man sich mit den gegenständlichen Andeutungen in Uta Reinhardts Malerei, wird man feststellen, dass diese aus der Realität übernommenen Motive nicht ihrer inhaltlichen Deutbarkeit wegen, sondern ihres malerisch verwendbaren Schauwerts, ihrer formalen Reize, ihres szenischen Überraschungseffekts wegen ausgewählt worden sind. Die in den Bildern auftauchenden Menschen nehmen recht ungewöhnliche Positionen ein. Sie steigen auf Mauern, hocken am Boden, knien vor Leitern, lehnen sich gegen Fensterläden, turnen auf Betten, werfen mit Bällen und reiten auf Tieren. Die szenische Wirkung der gewählten Gesten ist klug kalkuliert, wird aber durch Fremdmotive, die dazwischenfahren, oder durch malerische Kontraste – Verschwimmendes tritt auf Überscharfes, Abstraktes auf Gegenständliches – wirkungsvoll gebrochen oder subtil gesteigert.

Noch deutlicher lässt sich in den Tierdarstellungen nacherleben, wie die Malerin die entdeckten Formmuster mit Farben variierend weiterformt und die beobachteten motorischen Kräfte in malerische Energie umsetzt. Die mit wenigen wirbelnden Linien und zwei drei Aquarellwischern aufs Papier gehauenen Katzenbilder lassen sich als abstrakte Improvisationen genießen und vermitteln doch aufs sinnlichste etwas von der animalischen Kraft dieser Tiere. Und die vielen sprechenden Varianten, die Reinhardt einem nur mit wenigen Pinselgesten angedeuteten Rehbockkopf abgewonnen hat, zeigen, mit welcher Lust die Malerin ein auf wenige Bestandteile reduziertes Motiv – Augen, Ohren, Hörner, Schnauze – in sprühende Malerei verwandeln kann und welche Fülle an individuellem Ausdruck sie einer Maske abzugewinnen vermag.

Uta Reinhardt hat in vergleichsweise kurzer Zeit eine Welt erschaffen, in der reale Motive mit verblüffender Leichtigkeit ins Geheimnis abheben können und abstrakte Farbwelten sich dinglich so verdichten, dass sie zu reden beginnen. Die Spielmöglichkeiten, die sie sich mit dieser Methode eröffnet hat, sind schier unendlich.

Gottfried Knapp: Zu Uta Reinhardts Malerei, in: Uta Reinhardt. Surface, hg. v. Nicole Gnesa und Katharina Powers, Hirmer Verlag, München 2018

Wir freuen uns auf Ihren Besuch!

//


Uta Reinhardt's pictorial creations encourage the viewer to various interpretations. Each of her paintings seems to have been created according to its own law. As a matter of fact, anyone, who tries to summarise the very different motifs in her pictures in their thoughts and to find their relation to one another within their content, will hardly advance to the core of Reinhardt's work.

The pictorial and graphic work of Uta Reinhardt is so enigmatically rich and so confusingly diverse exactly because it has not been conclusively constructed according to content ideas, but is created with purely painterly means, namely with brush and pen. In other words: Uta Reinhardt can inspire the viewer to intensive thoughts, not because her painting is figurative, but because her forms are spontaneously free abstracts over long stretches of time, which emerge out of her spontaneous and highly vivid forms. Her paintings seem captivating because the motifs are embedded in large painterly compositions which can be experienced and enjoyed with or without interpreting their content.

If you look at the representational hints in Uta Reinhardt's painting, you will reckon that these motifs, assumed from reality, have been chosen not for their content interpretability, but because of their pictorially usable exhibition value, their formal attractions, their scenic surprise effect. The people appearing in the paintings take quite unusual poses. They climb walls, squat on the ground, kneel in front of ladders, lean against window shutters, exercise on beds, throw balls and ride animals. The scenic effect of the chosen gestures is cleverly calculated, but is effectively broken or subtly enhanced by foreign motifs which intervene or by painterly contrasts - the blurred meets the overly sharp, the abstract meets the representational.

How the painter continues to shape the discovered patterns with colours and translates the observed motoric forces into painterly energy can be experienced even more clearly in how the animal are constituted. The cat pictures, brought onto paper with a few whirling lines and two or three watercolour wipers, can be enjoyed as abstract improvisations, but then again impart something of the animalistic power of these animals in the most subtle way. And the many talking variants which Reinhardt has taken from a roebuck's head indicated with just a few brush gestures show the desire with which she transforms and envisages a motif reduced to a few components - eyes, ears, horns, muzzle - into a sparkling painting and the abundance of the individual expression she is able to win from a mask.

Within a relatively short time, Uta Reinhardt has created a world, in which real motifs can lift into the mystery at an astonishing ease and abstract worlds of colour become so dense that they begin to talk. The playing possibilities she has opened up with this method are almost infinite.

Gottfried Knapp, The Paintings of Uta Reinhardt, in: Uta Reinhardt. Surface, ed. by Nicole Gnesa and Katahrina Powers, Hirmer Publishers, Munich 2018

We look forward to welcoming you.