JESSICA BUHLMANN: GARDEN RAIN

opening reception for the artist: January 18, 2018, 6 - 9 pm
exhibition: January 19 - February 17, 2018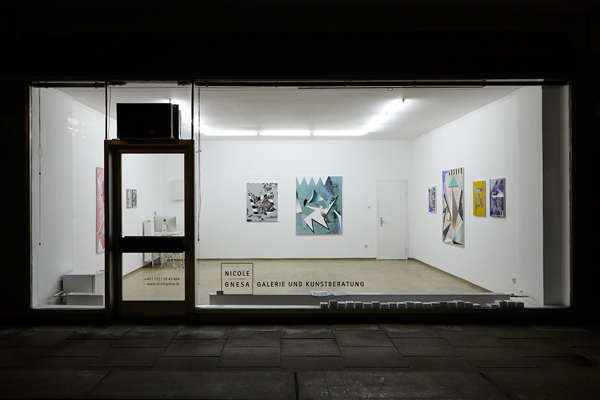 Nicole Gnesa freut sich ganz besonders, in München zum ersten Mal eine Einzelausstellung mit Bildern der Berliner Künstlerin Jessica Buhlmann zu zeigen.

Toru Takemitsus poetische Komposition für Blechbläser 'Garden Rain' (1974) beschäftigt sich mit den einzelnen Komponenten eines Japanischen Gartens im Regen und ihren Verhältnis zueinander. Analog dazu befinden sich auf Jessica Buhlmanns neuer Werkgruppe selbstständige, miteinander verflechtete, rhythmisch angeordnete Elemente.

Mäandernd nähern sich die abstrakten geometrischen Formen, umspielen einander oder grenzen sich ab. Dabei öffnen sich Räume und schließen sich Flächen. Bedeutungsschwanger ergeben sich dynamische und statische Positionen, die collagenhaft Vorder- und Hintergrund voneinander trennen. Wie im Kubismus sind dabei nur manche Formen durch eine angedeutete Schlagseite raumhaft und werden partiell mehrdimensional, so dass das Bild enigmatisch den Blick des Betrachters fesselt.

Buhlmann verwendet statt Pinsel oftmals die Spachtel. Glatte, von Linien durchbrochene Strukturen entstehen so durch sorgfältiges, partielles Abkleben, die Ölbilder wirken statt malerisch beinahe graphisch. Dabei improvisiert sie in einem organischen Prozess innerhalb ihrer genau vorgegebenen Konstruktionen, und bei längerer Betrachtung erscheinen kleine Unebenheiten innerhalb der Ordnung, die diese von der Oberfläche ausgehende Perfektion in Frage stellen. Adrienne Braun bemerkt 2016 im ART Magazin in einem Artikel über Buhlmanns Arbeit hierzu: "Während des Malprozesses, der aber auch von der Intuition geleitet wird, formuliert sie (Jessica Buhlmann) immer wieder Regeln, die sie dann doch bricht, sodass sie sich auf den Bildern nicht mehr zurückverfolgen lassen. So entsteht ein freies Formenspiel, voller Spannung und geheimnisvoller Bezüge. Malerei als sorgfältige Forschungsarbeit, bescheiden, konzentriert und schön."

Jessica Buhlmann wurde 1977 in Potsdam geboren. 2007 schloss sie als Meisterschülerin an der UDK Berlin ab. Seitdem wurden ihrem Werk zahlreiche Einzel- und Gruppenausstellungen gewidmet, wie zuletzt im Kunsthaus Erfurt oder ab Februar im Kunstverein Kunstraum 34, Stuttgart.

Wir freuen uns auf Ihren Besuch!

//

Nicole Gnesa is particularly pleased to present Berlin artist Jessica Buhlmann's first solo exhibition in Munich.


Toru Takemitsu's poetic composition for brass instruments, 'Garden Rain' (1974) deals with the individual components of a Japanese garden in the rain and their relationship to one another. Similarly, Jessica Buhlmann's new group of works contains independent, intertwined, rhythmically arranged elements.

As if meandering, the abstract geometric forms approach each other, interact or keep their distance. At the same time, spaces open up and surfaces close. Dynamic and static positions emerge meaningfully, separating collage-like foregrounds and backgrounds. As in Cubism, only some forms become spatial by means of a suggested angle and are partially multi-dimensional, so that the image enigmatically captivates the viewer's gaze.

Buhlmann uses a spatula instead of a brush most of the time. By careful, partial masking, smooth structures, broken by lines, are created that make her oil paintings graphic instead of pictorial. At the same time she improvises organically within her precisely predetermined constructs so that small uneven surfaces appear within the system, challenging that superficial perfection. Adrienne Braun wrote about Buhlmann's work in ART magazine in 2016: "Throughout the painting process, which is also guided by intuition, she repeatedly formulates rules she then breaks so that they can no longer be traced back to the paintings. This creates a free play on form, full of suspense and mysterious references. Painting as meticulous research - unpretentious,focused and beautiful."

Jessica Buhlmann was born in 1977 in Potsdam. In 2007 she graduated from the Berlin University of the Arts. Numerous solo and group exhibitions have followed, including museums such as the 'Kunsthaus Erfurt' recently. In February, the Kunstverein 'Kunstraum 34' in Stuttgart will also be showing a solo exhibition of her work.


The artist will be at the opening on January 18th, 2018, 6-9 pm. The exhibition will run from January 19th to February 17th, 2018, Tuesday – Friday, 3 to 7 pm - Mornings and Saturdays by appointment: Mobile: 0172 5943484 / Email: kontakt@nicolegnesa.de.