PATRICK ALT / PATRICK PANETTA: UNDER CONSTRUCTION


opening: March 12, 2015, 6 - 9 pm
exhibition: March 13 - April 30, 2015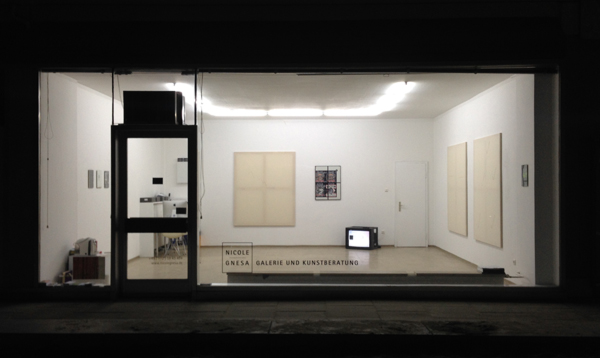 please scroll for the English text

Nicole Gnesa freut sich die Ausstellung UNDER CONSTRUCTION der beiden in Berlin lebenden Künstler Patrick Alt und Patrick Panetta zu zeigen. Was die beiden Künstler miteinander verbindet, ist nicht ein gemeinsamer künstlerischer Weg oder ein Medium, sondern die Auseinandersetzung mit dem kleinsten gemeinsamen Nenner. Beide Haltungen sind von einem konstruktiven Skeptizismus gekennzeichnet, welcher sich aus der Erkenntnis speist, dass Wahrnehmung kein Abbild einer bewusstseinsunabhängigen Realität liefert, sondern dass Realität für jedes Individuum immer eine Konstruktion aus Sinnesreizen und Gedächtnisleistung darstellt.


"A system is an entity which maintains its existence through the mutal interaction of its parts."


Panetta und Alt verwerten auf unterschiedliche Weise die physischen und sozialen Rahmenbedingungen einer rasant anwachsenden und komplexer werdenden Bild- und Kulturgeschichte direkt als Arbeitsmaterial.


Patrick Alt *1976, zeigt drei großformatige Arbeiten, die Geste und Pathos der Malerei auf lose arrangierte Leinenfäden alter, vorangegangener Ölgemälde reduziert. Die Fäden, die auf leicht transparenter Leinwand platziert sind, versetzen das Gesamtbild in einen Schwebezustand zwischen Konstruktion und Improvisation, Poetik und Pathetik und legen die zugrundeliegenden Strukturen offen.
Patrick Alt studierte von 2006 – 2011 an der HfbK, Hamburg bei Werner Büttner und der Städelschule, Frankfurt bei Michael Krebber. Patrick Alt nahm an zahlreichen Gruppen- und Einzelausstellungen im In- und Ausland teil: Index, Kunsthaus Hamburg / Artnews Projects, Berlin / Galerie Martina Detterer, Frankfurt a.M. / Five Thirty Three Gallery, Los Angeles / Marks Blond Project, Bern / MMK, Frankfurt a.M. / Indianapolis Museum of Contemporary Art (IMOCA) / Galerie Fiebach Minninger und Galerie Christian Nagel, Köln / Helpers, New York / Atelier Frankfurt, Frankfurt a.M. / Autocenter, Berlin / Hospitalhof, Stuttgart / Galerie Kavi Gupta, Chicago, Berlin / Kunstraum Bethanien, Berlin

Patrick Panetta *1977, zeigt in UNDER CONSTRUCTION eine Edition von Screenshots und Quicktime-filmen, die über die letzten Jahre beim surfen des Künstlers durch zahllose Galerienwebsites entstanden sind. Lakonisch und zufällig generiert sich der O-Ton der Filme, aus parallel zum surfen geöffneten talkradio- und musicstreams. Banalität und Komplexität vermischen sich zu einem Abbild eines Betriebssystems, ähnlich einer Genremalerei aus dem 19. Jahrhundert.
Patrick Panetta studierte von 2002 – 2007 an der Accademia di Brera, Mailand und der Kunstakademie Stuttgart bei Marianne Eigenheer und Christian Jankowski. Seine Arbeiten befinden sich in nationalen und internationalen Sammlungen und er nahm an zahlreichen Gruppen- und Einzelausstellungen in In- und Ausland teil: Kunstmuseum Stuttgart / Buchmann Galerie Berlin / Museum für Konkrete Kunst, Ingolstadt / Workspace, Los Angeles / Helper, New York / Galerie Gebrüder Lehmann, Berlin / Kunsthalle Göppingen / Bury Art Gallery Museum + Archives, Manchester / Daimler Kunstsammlung, Haus Huth, Berlin / Heidelberger Kunstverein / Kunstraum München / Museum Biedermann, Donaueschingen / Goethe Satelite, Western Front, Vancouver / Museo di Santa Giulia, Brescia / Wilhelm-Hack Museum, Ludwigshafen / Städtische Galerie, Delmenhorst / Adamski Gallery, Berlin


---



Nicole Gnesa is pleased to present UNDER CONSTRUCTION. The exhibition shows works by the two Berlin-based artists Patrick Alt and Patrick Panetta. What connects the two artists is not a common artistic approach or medium, but rather the analysis of the smallest common factor. Both positions are characterised by a constructive scepticism, which emerges from the realisation that perception is no depiction of an independent reality, but rather represents a construct of sensory stimuli and memory capacity.
"A system is an entity which maintains its existence through mutual interaction of it parts."
In a different sense, Panetta and Alt utilise the physical and social framework conditions of a rapidly growing and increasingly complex pictorial and cultural history as working material.


Patrick Alt (born 1976) presents three large-format works, which reduce the gestures and pathos of painting to loosely arranged linen threads from older, existing oil paintings. The threads, which are placed on a lightly transparent canvas, transport the work into a floating state between construction and improvisation, poetics and pathetic. Thereby, they reveal the underlying structures. Patrick Alt studied under Werner Büttner at the HfBK, Hamburg, from 2006-2011, and under Michael Krebber at the Städelschule, Frankfurt. Patrick Alt has participated in countless group and solo exhibitions, both nationally and internationally: Index, Kunsthaus Hamburg / Artnews Projects, Berlin / Galerie Martina Detterer, Frankfurt / Five Thirty Three Gallery, Los Angeles / Marks Blond Project, Bern / MMK, Frankfurt /
Indianapolis Museum of Contemporary Art (IMOCA) / Galerie Fiebach Minninger und Galerie Christian Nagel, Cologne / Helpers, New York / Atelier Frankfurt, Frankfurt / Autocenter, Berlin / Hospitalhof, Stuttgart / Galerie Kavi Gupta, Chicago, Berlin / Kunstraum Bethanien, Berlin


Patrick Panetta (born 1977) exhibits an edition of screenshots and QuickTime films, which resulted in the last years while the artist surfed through countless gallery websites. The audio of the films is generated laconically and coincidentally from parallel running talk radio stations and music streams. Banality and complexity become mixed into a depiction of an operating system, similar to a genre painting from the 19th century. Patrick Panetta studied from 2002 - 2007 at the Accademia di Brera, Milan, and the Kunstakademie Stuttgart under Marianne Eigenheer and Christian Jankowski. Patrick Panettaís works are part of national and international collections. He has participated in countless group and solo exhibitions: Kunstmuseum Stuttgart / Buchmann Galerie Berlin / Museum für Konkrete Kunst, Ingolstadt / Workspace, Los Angeles / Helper, New York / Galerie Gebrüder Lehmann, Berlin / Kunsthalle Göppingen / Bury Art Gallery Museum + Archives, Manchester / Daimler Kunstsammlung, Haus Huth, Berlin / Heidelberger Kunstverein / Kunstraum München / Museum Biedermann, Donaueschingen / Goethe Satelite, Western Front, Vancouver / Museo di Santa Giulia, Brescia, Italy / Wilhelm-Hack Museum, Ludwigshafen / Städtische Galerie, Delmenhorst / Adamski Gallery, Berlin