PHILIP GRÖZINGER: OUT OF THE CORNER OF MY EYE

opening reception for the artist: April 6, 2017, 6 - 9 pm
exhibition: April 7 - May 13, 2017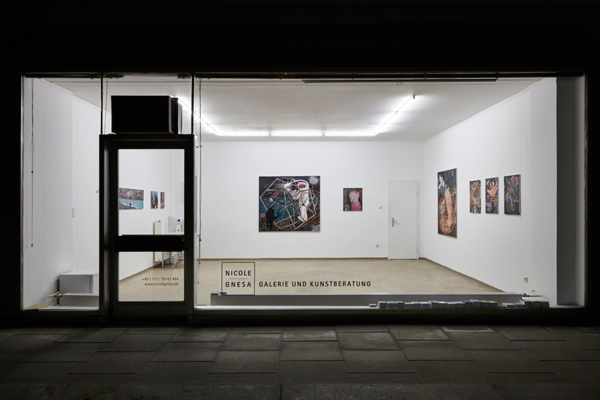 please scroll fot the English version


Die Nicole Gnesa Galerie freut sich außerordentlich, zum ersten Mal in einer Einzelschau Bilder des international renommierten Berliner Künstlers Philip Grözinger in München zeigen zu dürfen.

Gäbe es ihn, Grözingers Arbeiten könnten dem virtuellen Surrealismus zugeordnet werden. Malerisch verspinnt er sich in einem Netz von pastosem Farbauftrag und einer Mixtur aus grellen Kontrasten und zarten Tönen. Daneben setzt er einen feinen, fast der Miniatur entlehnten Farbauftrag. Dieser Farbauftrag taucht dort auf, wo seine comicartigen Wesen menschlich werden.

Das Thema, das dabei alles zusammenhält, ist eine fiktive Realität im Weltraum. Das Figürliche setzt sich in den Vordergrund einer abstrakten Welt und macht diese so auch figürlich. Gestalten in Astronautenanzügen sowie das immer wiederkehrende schwarze Männchen geben sich ein Stelldichein an abstrakten Orten, besser noch auf dem Ausschnitt einer Planetenoberfläche. Der Hintergrund wird bestimmt von abstrakten Elementen, die der Betrachter aufgrund der schnell zu enträtselnden Bildsprache als Ufos zu erkennen glaubt.

Und dann beginnt die Geschichte. Noch nie gesehene niedliche, meist freundlich lachende Figuren machen komische Sachen. Sie scheinen Ringe auf seltsamen filigranen Geflechten zu ordnen, duschen, werfen Sterne, bestaunen Regenbögen oder freuen sich einfach. Und je länger man sich mit Philip Grözingers Malerei beschäftigt, desto tiefer dringt man in seine Idylle einer 70er Jahre Space Odyssee ein.

Spätestens beim Titel bricht die Fröhlichkeit dieser Welt in ein Sehnsuchtsmotiv. 'Out of the Corner of my Eye' ist einer Liedzeile aus Comfortably Numb (1979) von Pink Floyd entlehnt:

When I was a child, I caught a fleeting glimpse
Out of the corner of my eye, I turned to look but it was gone
I cannot put my finger on it now, The child is grown
The dream is gone, I have become comfortably numb.

Die Brücke zu unserer Realität macht einen melancholisch wünschen, Teil von Grözingers Fiktion zu sein.

Philip Grözinger (*1972) studierte auf der Hochschule für Bildende Künste Braunschweig bei Karl Schulz. Er ist Dozent auf der Kunsthochschule Weißensee in Berlin, sein Werk wurde international bereits vielerorts gezeigt wie gerade in der Einzelausstellung 'For a Fleeting Moment' bei Marie Kirkegaard in Kopenhagen.

Der Künstler wird zur Eröffnung anwesend sein. Wir freuen uns auf Ihren Besuch!

--

Nicole Gnesa Gallery is very proud to host the Munich premiere of the internationally renowned artist Philip Grözinger.

Virtual Surrealism is a terminology attempting to describe Grözinger's unique body of work.


In his paintings he spins a web of tightly interwoven applications of pasty paint, garish contrasts and delicate tonalities. They are accompanied by delicate fine lines that almost resemble the technique from miniature paintings, only to be seen up close - where his comiclike figures become almost human.


The basic theme is fictional surreality in outerspace. Figures are positioned in the foreground abstract world, whilst activating the background as part of this figurative world, where figures in astronaut suits have rendezvous with a recurring black manekin in abstract places or on parts of a otherworldly planetary landscape. The background flickers with abstract elements, which the viewer believes to be recognizable as Ufos or other systems.


This is where the story takes off... Cute, usually friendly laughing figures take part in funny things. They seem to arrange rings on strange filigree nettings. They shower, throw stars, admire rainbows, or simply appear to be in a happy blizz. The further you go on the journey in Philip Groezinger's paintings, the deeper you enter into his idyll of 70's Space Odyssey.


The artist title for the exhibition projects his galaxy of joy into a longing motif.

'Out of the Corner of my Eye' - a line from Comfortably Numb (1979) by Pink Floyd:

When I was a child, I caught a fleeting glimpse

Out of the corner of my eye, I turned to look but it was gone

I can not put my finger on it, The child is grown

The dream is gone, I have become comfortably numb.

The melancholic bridge to our reality makes you wish to be part of Grözinger's yearing fiction.


Philip Grözinger (* 1972) studied at the University of Fine Arts Braunschweig with Karl Schulz. He is a lecturer at the Kunsthochschule Weißensee in Berlin. His work has already been shown internationally in many places, as in the solo exhibition 'For a Fleeting Moment' at Marie Kirkegaard in Copenhagen at the moment. He lives and works in Berlin.


The artist will be present at the opening. We are looking forward to your visit!