NACHT
FRITZ BORNSTÜCK, EVA & ADELE, PHILIP GRÖZINGER, FRANZISKA KLOTZ, UTA REINHARDT

opening reception: November 23, 2017, 6 - 9 pm
exhibition: November 24 - December 23, 2017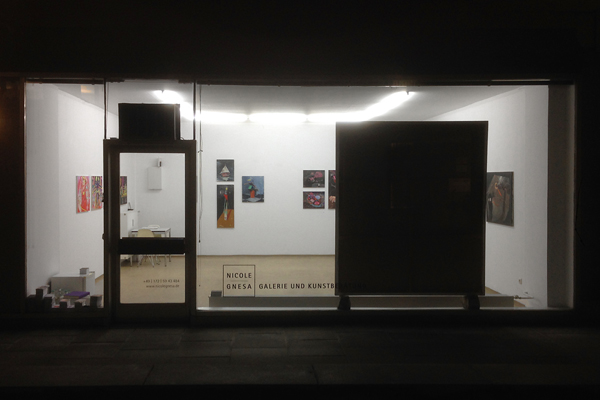 I know that the night is not the same as the day: that all things are different, that the things of the night cannot be explained in the day, because they do not then exist.


Ernest Hemingway, A Farewell to Arms 1929
Ab dem 23. November zeigt Nicole Gnesa Arbeiten zum Thema Nacht.
Die Nacht hat viele Gesichter. Der Mensch wird in Dunkelheit gehüllt, seine Sinne werden geschärft. So ist die Nacht die Zeit des kontemplativen Nachdenkens, der Entschleunigung. Gleichzeitig scheint sie faszinierend gefährlich, im Dunkeln können Geheimnisse verborgen bleiben. Der hemmungslose Exzess kann nur in der Nacht stattfinden.


Wie reich sind die Darstellungen der Nacht in der Kunstgeschichte! Von der 'Heiligen Nacht' bis hin zu den expressiven Nächten der Bohème ist sie seit jeher ein bevorzugtes Thema der Künstler.

Exemplarisch werden in der Ausstellung fünf zeitgenössische malerische Positionen vorgestellt, die sich mit dem Thema der Nacht im besonderen auseinandersetzen. Fritz Bornstücks surreale, entrückte Landschaften können nur in der Nacht existieren. EVA & ADELE entführen uns auf eine Reise ins Reich der nächtlichen Berliner Ausschweifung, während auf den Planeten in Philip Grözingers Space Bildern die Nacht kein Ende zu nehmen scheint. Franziska Klotz zeigt uns die Nacht in ihrer unheimlichen Stimmung und bei Uta Reinhardt erscheint sie in einem Naturbild tief romantisch.

Wir freuen uns auf Ihren Besuch!

//


As of November 23, the Nicole Gnesa Galerie will be presenting NACHT (night), a group exhibition.
Night has many faces. Mankind is shrouded in darkness, its senses sharpened. Nighttime is for contemplative reflection, for deceleration. At the same time it is both fascinating and dangerous. Secrets can be hidden in the dark. Unrestrained excess takes place at night.


How rich are the depictions of night in art history! From "Silent Night' to expressive bohemian nights, it has always been a favorite theme of artists.

The exhibition presents five contemporary painters and their approaches to the subject. Fritz Bornstück's surreal, otherworldly landscapes seem as if they could only exist at night. EVA & ADELE take us on a journey into the realm of nocturnal Berlin debauchery, whereas on the planet in Philip Grözinger's space paintings night seems never-ending. Franziska Klotz shows us the uncanny, eerie atmosphere of night. Uta Reinhardt's painting, on the other hand, is a deeply romantic image of nature.

We look forward to greeting you!