Thomas Elsner: Just a Glance

Opening reception for the artist: February 9, 2023, 6-9 pm
Exhibition: February 10 - February 25, 2023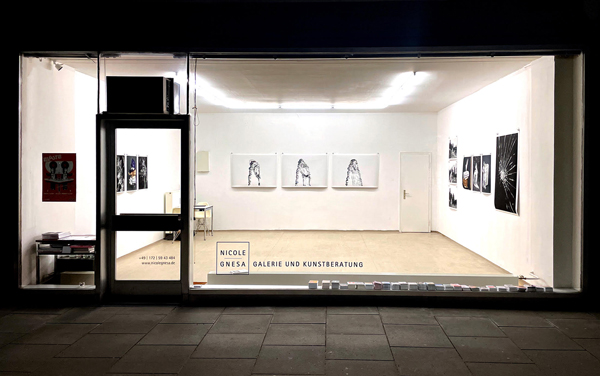 Please scroll down for the English version.

In der zweiwöchigen Studioausstellung 'Just a Glance' zeigt die Nicole Gnesa Galerie neue Arbeiten des Ausnahmefotografen Thomas Elsner.

Elsner stellt diesmal unter anderem großformatige, sehr reduzierte Wasserfotografien aus.
Wasser steht seit eh und je sinnbildlich für den Fluss und den Kreislauf des Lebens. Mit voller Kraft schießt es in die Höhe, nur um von der Schwerkraft sofort wieder in eine abwärts gewendete Kurve gezwungen zu werden. Es fällt zurück auf den Boden und versickert in der Erde. Seine Textur ist dabei kaum greifbar, obwohl sie ihre eigene Architektur mit sich zu bringen scheint und so zur temporären, flüchtigen Skulptur wird.
Elsner hält diese fluide Schönheit des Augenblicks fest, die immer anders aussieht und doch immer die gleiche ist. Oder immer gleich aussieht und doch anders ist. Das Repetitive und sich doch leicht Verändernde ist ein wesentliches Thema seiner Arbeit.

Ähnlich verhält es sich mit den Rauchbildern: Der Künstler fängt einen Augenblick der sich ständig entwickelnden Struktur ein, bloß für den kürzesten Moment verharrt der Rauch in einer bizarren Form, bevor er sich in die Unendlichkeit auflöst.

Daneben werden Arbeiten aus Elsners Motivik von verpackten und verhüllten Objekten und diesmal sogar eine Person zu sehen sein.
Risse, Falten und Wunden treten an die Oberfläche, verbergen das (scheinbar) Wesentliche, das sich unseren Blicken entzieht. Sie zeugen von einem unbestimmten Schicksal und einer anderen Existenz. Die Sujets haben ihre ursprüngliche Erscheinung und Bedeutung verloren und schaffen so Raum für neue Interpretationen.
Wo der Künstler bislang versuchte, zufälligen Augenblicken neue Dimensionen zu geben, inszeniert er hier mit seiner Gruppe von Portraits – unter anderem von drapierten Objekten aus seiner Lebenswelt – zum ersten Mal das Geheimnisvolle.

Thomas Elsner lebt als Fotograf, DJ und Art Director in München.

//

In the two-week studio exhibition 'Just a Glance' the Nicole Gnesa Gallery shows new works by the exceptional photographer Thomas Elsner.

This time Elsner exhibits, among other things, very reduced water photographs in large format.
Since the beginning of time, water has symbolized the cycle of life. With full force it shoots upwards, only to be forced by gravity immediately back into a downward curve. It falls back to the ground and seeps into the earth. Its texture is barely tangible in the process, though it seems to bring its own architecture with it, becoming a temporary, ephemeral sculpture.
Elsner captures this fluid beauty of the moment, which always looks different and yet is always the same. Or always looks the same and yet is different. The repetitive and yet slightly changing is a major theme of his work.

It is similar with the smoke pictures: The artist captures a moment of constantly evolving structure, merely for the briefest moment the smoke persists in a bizarre form before dissolving into infinity.

In addition, there will be works from Elsner's motif of wrapped and shrouded objects, and this time even a person.
Cracks, folds and wounds come to the surface, concealing the (seemingly) essential, which eludes our gaze. They testify to an indeterminate fate and another existence. The subjects have lost their original appearance and meaning, creating space for new interpretations.
Where the artist previously attempted to give new dimensions to random moments, here he stages the mysterious for the first time with his group of portraits - including draped objects from his living world.

Thomas Elsner lives as a photographer, DJ and art director in Munich.