GOING PLACES


Opening reception for the artists: September 8, 2022, 6-9 pm

Exhibition: September 9 - October 15, 2022

curated by Philip Grözinger
with works by the Berlin artists Christian Achenbach, Henri Haake, René Holm and Fee Kleiß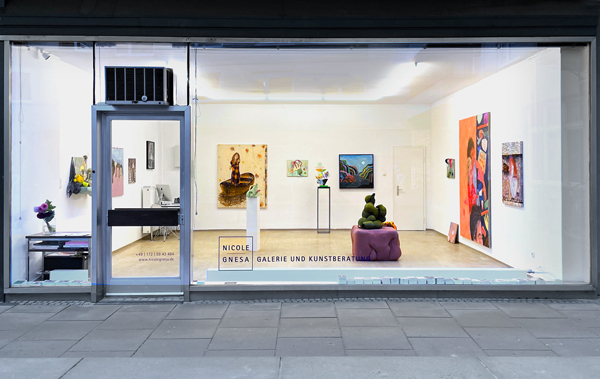 Nicole Gnesa freut sich außerordentlich, mit GOING PLACES zum ersten Mal eine von einem/r ihrer Künstler/innen kuratierte Ausstellung am 8.9.22 eröffnen zu dürfen.
Philip Grözinger sucht am Beispiel der vier jungen und etablierten Berliner Positionen neue Wege in der figurativen Malerei.
Alle vier Künstler/innen werden zur Eröffnung anwesend sein.
//
Nicole Gnesa is very pleased to open GOING PLACES, the first exhibition curated by one of her artists, on September 8, 2022.
Philip Grözinger is looking for new paths in figurative painting by using the example of four young and established Berlin positions.
All four artists will be present at the opening.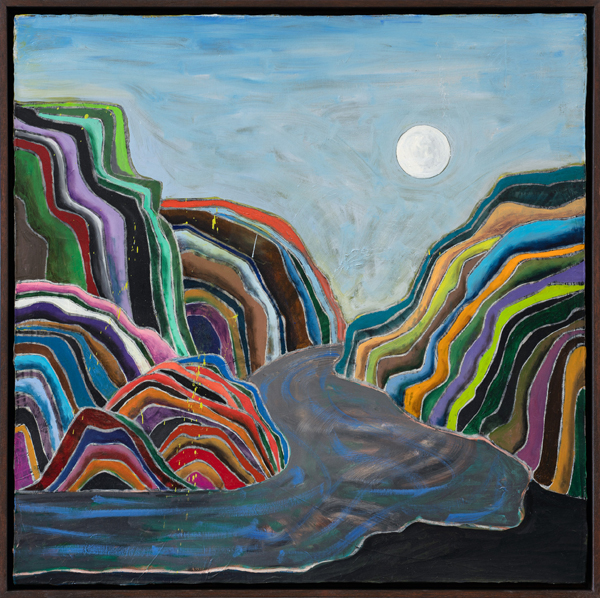 Tian, 2021, oil and pastel on canvas, artist framed, 84 x 84 cm

In seinen neusten Bildern zeigt Christian Achenbach (*1978 Siegen, Abschluß HDK Berlin Meisterschüler Anselm Reyle) Landschaften und Architekturen. Aufgebaut fast wie Bühnenbilder, sind die einzelnen Komponenten flächig in den Raum gestaffelt. In einer exzentrischen Farbgebung mit weißen Konturen scheinen sie als logische Konsequenz aus Moderne und Surrealismus.
Zu den neuen Bildern wird eine Glasskulptur gezeigt.
//
In his latest paintings, Christian Achenbach (*1978 Siegen, graduated HDK Berlin as master student with Anselm Reyle) shows landscapes and architectures. Set up almost like stage sets, the individual components are staggered flatly in space. In an eccentric colour scheme with white contours, they seem to be a logical consequence of modernism and surrealism.
A glass sculpture is shown to accompany the new paintings.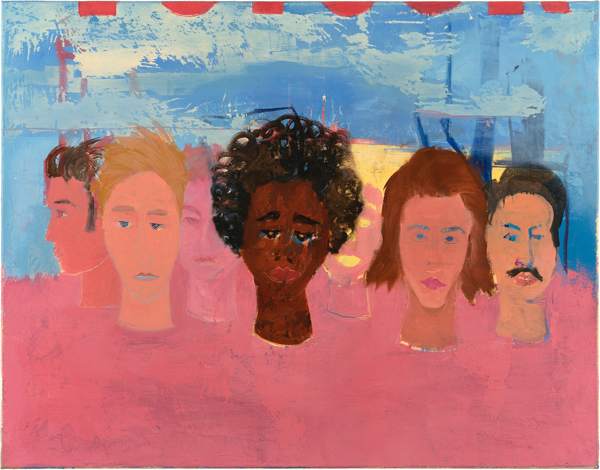 Perückenladen, 2019, oil on canvas, 90 x 115 cm

In Henri Haakes (*1989 Lübeck, Abschluß UdK bei Robert Lucander) Werken schauen wir aus ungewohnten Blickwinkeln auf alltägliche Szenen.
Oftmals werden Räume nur angedeutet, das Eigentliche spielt sich jedoch auf der Maloberfläche ab, wo Farbe und Flächigkeit regieren. Diese poetischen Nebenszenarien beinhalten auch leise Kritik an der Gesellschaft, in der allzuoft nur das Zentrale, das Laute interessiert.
//
In Henri Haake's (*1989 Lübeck, graduated UdK with Robert Lucander) works we look at everyday scenes from unusual angles.
Often spaces are only hinted at, but the real thing takes place on the surface of the painting, where colour and flatness reign. These poetic side scenarios also contain quiet criticism of society, in which all too often only the central, the loud is of interest.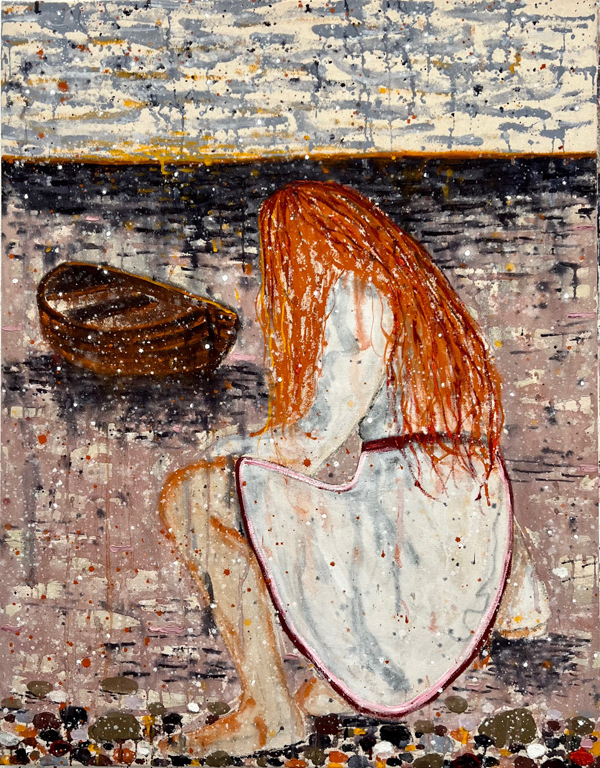 Sommernight, 2022, pigment and oil on canvas, 90 x 70

Der bedeutende Dänische Maler René Holm (*1967 Esbjerg Dänemark, Academy of Fine Arts in Aarhus, Denmark) mit Lebensmittelpunkt in Berlin ist bekannt für seinen stark rhythmischen Pinselstrich.
Immer wieder greift Holm existenzielle Themen auf und verortet sie in der Natur, in Motiven entlehnt aus der romantischen Maltradition. Wie eine nordische Gottheit erscheint die gesichtslose rothaarige Frau, sehnsüchtig versucht sich die Figur mit der Natur zu verbinden. Die der herbstlichen Landschaft angelehnten Farbpalette unterstreicht die Melancholie der Bilder.
//
The important Danish painter René Holm (*1967 Esbjerg Denmark, Academy of Fine Arts in Aarhus, Denmark), who lives in Berlin, is known for his strong rhythmic brushstroke.
Again and again Holm takes up existential themes and locates them in nature, in motifs inspired by the Romantic painting tradition. The faceless red-haired woman appears like a Nordic deity; longingly, the figure tries to connect with nature. The color palette borrowed from the autumnal landscape underlines the melancholy of the images.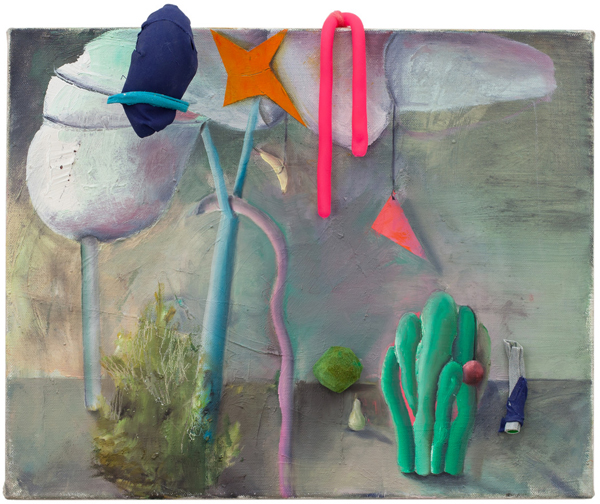 Comfort Zone, 2020, oil, cotton, foam, rubber, silicone, linen, 40 x 50 x 8 cm

Fee Kleiß (*1984 Kuchen, Abschluß UdK als Meisterschülerin) mischt Leinwandarbeiten mit Skulptur. Diese neue Form des Reliefs hat einen starken installativen Charakter, wie zufällig sind teils objets trouves, teils eigens hauptsächlich aus Textil gefertigte Stücke angebracht und verwirren den Betrachter durch eine neue Dimensionalität auf der Leinwand. Der Raum auf der Leinwand breitet sich in den realen Raum aus, es entsteht eine Mischung aus Stilleben und Landschaft mit fiktiver Gegenständlichkeit.
Neben den Reliefs werden auch Skulpturen von Fee Kleiß gezeigt.
//
Fee Kleiß (*1984 Kuchen, graduated UdK as a master student) mixes canvas works with sculpture.
This new form of relief has a strong installative character, as if by chance, pieces are attached, partly objets trouves, and partly made mainly of textile and so confuse the viewer by a new dimensionality on the canvas. The space on the canvas spreads into real space, creating a mixture of still life and landscape with fictional representationalism.
In addition to the reliefs, sculptures by Fee Kleiß are also on view.

Wir freuen uns sehr auf Ihren Besuch! // We are looking forward to your visit.