THOMAS ELSNER: BEYOND THE HIDDEN

opening reception for the artist: April 13, 2018, 6 pm
exhibition: April 14 - May 12, 2018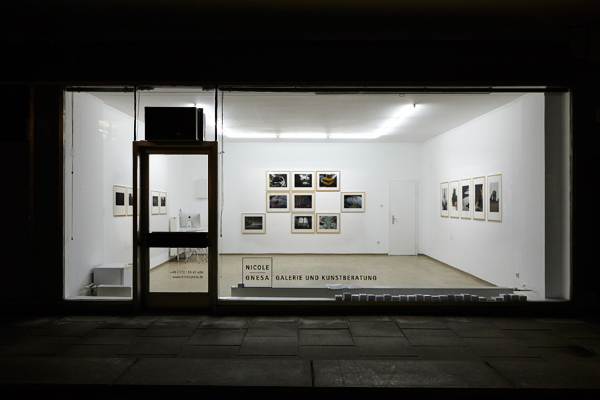 Ab dem 13. April 2018 zeigt Nicole Gnesa mit Beyond the Hidden ein Projekt mit neuer Fotografie von Thomas Elsner.

Subtil skizziert Elsner das Auffallende im Unauffälligen. Dabei fotografiert er fast streunend Planen, Häuser, Autos oder Spielplätze, mehr Portraits als Situationen, meistens menschenleere Orte. Die Wirklichkeit, die uns jeden Tag umgibt, aber in ihrer äußerlichen Skurrilität als solche nicht mehr wahrgenommen wird, wird ihrer ursprünglichen Bedeutungsebene enthoben und symbolisch neu aufgeladen. Vornehmlich interessieren Thomas Elsner hierin verhüllte oder versteckte Objekte. Die Verpackung, durch die letzten Endes nur noch die Form des ursprünglichen sichtbar wird, steht sinnbildlich für den Reiz und die Spannung der in Abstraktion durchfurchten Oberfläche und für die Neugier auf das Verborgene.

'Elsner hat den Blick für das Besondere, und er scheut sich nicht, in dunkle Nischen zu leuchten.' wie Sönke Krüger in der Zeitung 'Die Welt' vom 20.11.2017 erkennt. Durch die Überhöhung mit starken Schatten und Licht Kontrasten und einer exzentrischen Linienführung auf den Fotografien werden scheinbare Nebensächlichkeiten auf eine Bühne gehoben. Es ist so, als würden diese Orte oder Gegenstände wie ein Schatz aus Erinnerung und Wahrheit geborgen werden.

Einige der ausgestellten Fotografien sind in Elsners vor kurzem publizierten und bereits vielbesprochenen Fotobuch 'Lubeca my Reflection' mit Texten von Björn Engholm, Larissa Beham, Karl-Hermann Leukert und Ingo Siegmund (Distanz Verlag, Berlin) erschienen.

Thomas Elsner lebt in München. Anfang der Achtziger Jahre gründete er zusammen mit Michael Reinboth und Christian Wegner das erste deutsche Indie Kultur Magazin 'Elaste', wo er bereits mit vielen namhaften Künstlern zusammenarbeitete. Seither ist er einer der bekanntesten Artdirektoren Deutschlands. Die Fotografie begleitet ihn immer.

Im Rahmen der Ausstellung fand am 5. Mai eine Spoken Word Installation von Larissa Beham statt.

--

With 'Beyond the Hidden' Nicole Gnesa will be showing a project with new photography by Thomas Elsner.

Subtly Elsner sketches the striking in the inconspicuous. In the process, he photographs tarplauins, houses, cars or playgrounds, more portraits than situations, mostly deserted places. The reality that surrounds us every day, but is no longer perceived as such in its external scurrility, is relieved of its original meaning and symbolically reloaded. Most of all, Thomas Elsner is interested in obscured or hidden objects. The packaging, through which ultimately only the form of the original becomes visible, symbolizes the charm and tension of the abstraction-perfected surface and the curiosity for the hidden.

"Elsner has an eye for something special, and he does not hesitate to shine in dark niches," as Sönke Krüger recognizes in the newspaper 'Die Welt' on 20.11.2017. By exaggerating with strong shadows and light contrasts and an eccentric line in the photographs, apparent trivialities are lifted onto a stage. It is as if these places or objects are being salvaged like a treasure of memory and truth.

Some of the exhibited photographs have been published in Elsner's recently published and much-discussed photo book 'Lubeca my Reflection' with texts by Björn Engholm, Larissa Beham, Karl-Hermann Leukert and Ingo Siegmund (Distanz Verlag, Berlin).

Thomas Elsner lives in Munich. At the beginning of the eighties he founded the first German indie culture magazine 'Elaste' together with Michael Reinboth and Christian Wegner, where he already collaborated with many renowned artists. Since then he is one of the most famous art directors in Germany. Photography has always accompanied him.

As a part of the exhibition, Nicole Gnesa Gallery presented a spoken word installation by Larissa Beham on May 5, 2018.