ALFREDO BARSUGLIA: ALLGEMEINPLATZ


Opening: September 16, 2021, 6 pm
Exhibition: September 17 - October 21, 2021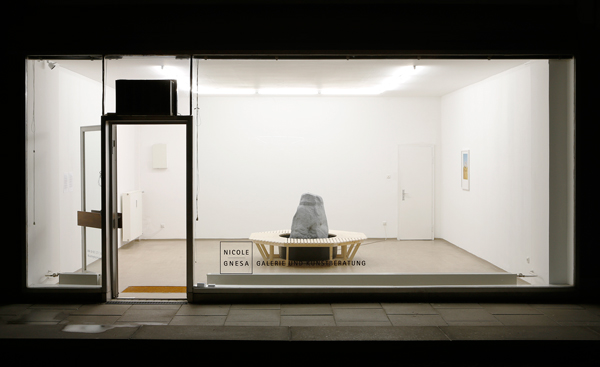 Please scroll down for the English version.


Nicole Gnesa freut sich außerordentlich, den Senkrechtstarter der österreichischen Kunstszene, Alfredo Barsuglia (*1980 Graz), mit 'Allgemeinplatz' zum ersten Mal in einer Einzelausstellung in Deutschland zeigen zu können.

Barsuglia setzt sich in seinem Werk mit gesellschafts- und sozialkritischen Themen auseinander und spielt mit Erwartungshaltungen, indem er das Publikum mit seinen oft absurden, nicht auf den ersten Blick als Kunstwerk erkenntlichen Installationen verblüfft.

In seinem politischen Werk bedient sich Barsuglia unterschiedlicher Medien und Strategien, bei der die kommerzielle Wertschöpfung meistens nicht im Vordergrund steht. Vielmehr versteht er Kunst als Möglichkeit der Reflexion einer Gesellschaft, die oft aktiv in seine Arbeit eingebunden wird.

Eine seiner ersten international beachteten Arbeiten war Social Pool (2014) in Zusammenarbeit mit dem MAK Center for Art and Architecture, Los Angeles. Mitten in der südkalifornischen Mojave-Wüste errichtete Barsuglia einen kleinen Swimmingpool. Die geheimen Koordinaten und den Schlüssel zum Aufsperren der Poolabdeckung erhielt man im MAK Center. Der Weg zur Installation war äußerst strapaziös und doch wurde sie bestens besucht und bald von den Medien gehypt. Obschon es den Pool nicht mehr gibt, wird er auch jetzt noch in verschiedenen Zeitschriften immer wieder als einer der zehn schönsten Pools der Welt angeführt (z.B. Vogue). Die Kritik an der Dekadenz der Gesellschaft und der damit verbundenen Ressourcenknappheit schwamm mit.

In der Innsbrucker Innenstadt wiederum installierte er im Winter 2013-14 das Hotel Publik, ein Ein-Zimmer-Haus, in dem man kostenfrei nächtigen konnte, wenn man wissen wollte, wie es sich im öffentlichen Raum schläft. Das Projekt verwies zuerst indirekt und im Laufe der Projektdauer sehr konkret auf die prekäre Situation von Obdachlosen.

In einer Zeit wo die politische Bedeutung von Grenzen (nicht nur Staatsgrenzen, sondern auch private und persönliche, zwischenmenschliche Grenzen) zunimmt, versucht Barsuglia in seinen jüngsten Kunstprojekten dieser - seines Erachtens - gesellschaftlich negativen Entwicklung entgegenzuwirken, indem er Kontrapunkte setzt wie bei Mariainsel (2019), Abriss (2021) oder zuletzt bei Suahtnsuk (2021), das noch bis Mitte Oktober vor dem Kunsthaus Graz steht.

In München wird seine neuste Arbeit Allgemeinplatz zu sehen sein: Ein Brunnen mit Sitzgelegenheit verwandelt den kommerziellen Galerieraum in einen kommunalen Platz, der zweckbefreit von der Öffentlichkeit ge- und benutzt werden kann. Die Nicole Gnesa Galerie wird hierfür Dienstag - Freitag von 12-19 Uhr und Samstag von 12-16 Uhr ohne Aufsicht offenstehen.

Brunnen spielten eine zentrale Rolle im städtischen Umfeld und definieren noch heute das Aussehen vieler Plätze. Auch wenn sie ihre Aufgabe als Wasserspender verloren haben, erhalten sie nun, in Zeiten der Erderwärmung und der daraus resultierenden Überhitzung der Städte, durch ihre ihre Umgebung kühlende Wirkung eine neue Bedeutung.

Alfredo Barsuglia lebt in Wien und ist u.a. Träger des Monsignore Otto Mauer Preises. Er ist unter den 50 wichtigsten zeitgenössischen Künstlern Österreichs gelistet. Seine Arbeiten befinden sich in zahlreichen privaten und öffentlichen Sammlungen. Institutionelle Einzelausstellungen hatte er u.a. im Kunstforum Wien, im Kunsthaus Graz, im Kunstverein Eisenstadt, im MAK Center for Art and Architecture, Los Angeles, in der Tiroler Künstler*innenschaft / Kunstpavillon, Innsbruck und im MAK - Museum für angewandte Kunst, Wien.

Der Künstler wird zur Eröffnung am 16. September 2021 18 - 21 Uhr anwesend sein.

Es gelten die gültigen Corona Maßnahmen des Handels.


//


Nicole Gnesa is very pleased to show the high-flyer of the Austrian art scene, Alfredo Barsuglia (*1980 Graz), for the first time in a solo exhibition in Germany with 'Allgemeinplatz'.

Barsuglia's work deals with socio-critical issues and plays with expectations by baffling the audience with his often absurd installations that are not at first glance recognizable as works of art.

In his political work Barsuglia makes use of different media and strategies, in which the creation of commercial value is usually not in the foreground. Rather, he sees art as a reflexion of society that is often actively involved in his work.

One of his first internationally acclaimed works was Social Pool (2014) in collaboration with MAK Center for Art and Architecture, Los Angeles. In the middle of Southern California's Mojave Desert, Barsuglia constructed a small swimming pool. The secret coordinates and the key to unlock the pool cover could be obtained at the MAK Center. The way to the installation was extremely grueling, yet it was well attended and soon hyped by the media. Although the pool no longer exists, even now it is repeatedly cited in various magazines as one of the ten most beautiful pools in the world (e.g. Vogue). Criticism of the decadence of society and the associated scarcity of resources swam along with it.

In Innsbruck's city center, he installed Hotel Publik in the winter of 2013-14, a one-room house where people could spend the night free of charge if they wanted to know what it was like to sleep in public space. The project referred first indirectly and over the course of the project very concretely to the precarious situation of the homeless.

At a time when the political significance of borders (not only state borders, but also private and personal, interpersonal borders) is increasing, Barsuglia tries to counteract this - in his opinion - socially negative development in his latest art projects by setting counterpoints, as in Mariainsel (2019), Abriss (2021) or most recently in Suahtnsuk (2021), which will remain in front of the Kunsthaus Graz until mid-October.

In Munich, his latest work Allgemeinplatz will be on view: a fountain with seating transforms the commercial gallery space into a communal square that can be used and enjoyed by the public, free of purpose. The Nicole Gnesa Gallery will be open Tuesday - Friday from 12pm - 1pm and Saturday from 12pm - 4pm without supervision.

Fountains played a central role in the urban environment and still define the appearance of many squares. Even if they have lost their function as water givers, in times of global warming and the resulting overheating of cities, they now take on a new meaning through their cooling effect.

Alfredo Barsuglia lives in Vienna and is the winner of the Monsignor Otto Mauer Prize. He is listed among the 50 most important contemporary artists in Austria. His works are in numerous private and public collections. He has had institutional solo exhibitions at Kunstforum Wien, Kunsthaus Graz, Kunstverein Eisenstadt, MAK Center for Art and Architecture, Los Angeles, Tiroler Künstler*innenschaft / Kunstpavillon, Innsbruck and MAK - Museum für angewandte Kunst, Vienna, among others.

The artist will be present for the opening on September 16, 2021 6 - 9 pm.